The following is an assignment I wrote for my Research Writing class, here at Emerson College.
We were asked to profile a local Boston organization, under the lens of our class' topic:
The Environment, Landscapes, and Place
The Theater District
Emerson College is located in the "theater district" neighborhood of Boston, because of the string of theaters populating the streets: the Wilbur, Wang, Shubert, Boston Opera House and Colonial are some of Boston's oldest. But these aren't theaters in the sense of hosting artistic, enriching endeavors in my opinion. They're venues for stand-up comedians, Broadway musical tours, and concerts, spaces where an event can fit at least a thousand people, then leave.
According to an article from The New England Quarterly
, "during the early 1890s, Boston was the scene of the earliest attempt to introduce the radical drama and independent theater into America." I'm curious to know how Boston was deemed so significant to theater, when NY is so close, and if we as a city could be a landmark in the world of theater again. And if the
theater district
isn't home to the edgy theater in Boston, where is it?
A Local Boston Theater
The two largest theater companies in the Boston area are attached to schools: Boston University's
Huntington Theatre
and Harvard's
American Repertory Theatre
. These two theaters present the most mainstream productions in the city, and have the largest patron base.
Back in the mid-20th century, "the city of Boston used to be one of the most popular locations for out-of-town tryouts for plays and musicals, with the Emerson Colonial Theatre housing pre-Broadway productions of Porgy and Bess, Oklahoma!, Carousel and La Cage aux Folles".
It's possible a new tax break may bring more commercial theater to Boston
. But could the city create its own theater, and contribute to Broadway instead of being its playing ground? Currently the American Repertory Theater (ART) is doing just that,
it has sent a musical or play to Broadway annually for three years now
. But I'd argue the theater that matters most, is created by local artists, for the community, and then influences the world. Some of these important, not-for-profit Boston theater companies include
SpeakEasy Stage
,
Central Square Theatre
,
Lyric Stage
, and
Company One
.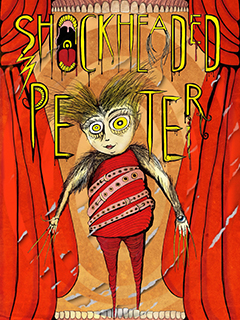 Company One piqued my interest with their most recent production, a play called Shockheaded Peter. I was drawn to it immediately. Their website advertised creepy nightmarish tales, music from The Tiger Lillies described as steamCRUNK, and this Tim Burton-esq poster.
I bought a $15 student ticket, and went by myself to the space they were performing at, The Modern Theatre, just a few doors down from Emerson's Paramount Center. The play is a series of musical vignettes about children dying, often being murdered, that has a storyline running through it about a couple who lock their baby in the floorboards of their home.
Standing in the lobby post show, I was approached by one of the dramaturgs who asked me what I thought about the show. I mentioned how I loved the masks and puppets, and how I hoped to be a professional dramaturg too one day, she encouraged me to apply for an internship in the future with Company One. This was something I can't remember happening in all my theater-going life: someone involved in the organization approached me, and wanted to hear what I had to say. I've been to so many plays where I needed to talk to someone, and since I was alone, I just left, full of feelings that would never be resolved until I met someone else who had experienced what I had. And here was someone who could speak on behalf of the show and discuss it as much as I wanted. As cast members entered the lobby and chatted with audience members, I felt like this was a space for artists and audience to be together. I heard people mentioning that they loved returning to see the piece, or had plans to experience it again. We were all being invited to join their family, to enter their home.
Engaging audiences with their work, and ensuring that their audience is diverse like the city of Boston itself is part of Company One's mission.
Some of their principles include
making "theatre for the people" because they value "diversity, community engagement, collective decision-making, transparent communication, and mentorship." These are traits that I identify with, and which came up in my conversation with Lauren Miller, their Administrative Services Manager and Marketing Assistant. Lauren and I chatted for about an hour about what makes Company One special, the Boston theater scene itself, and the future of Boston theater. When I told Lauren about my experience after
Shockheaded Peter
, and how happy I was to have someone come up to me, she explained how proud Company One is of bringing audiences into their family, and listening to them. There's an effort to engage you: their lobby was filled with fascinating merchandise, boards to write responses on, an area for selfies with simple puppets, and books on books on books related to their work. Having producers, members of the creative team, and a "street team" available to discuss the play means no one has to walk away unresolved like I have before. I also noticed that the audience that Wednesday night was filled with old people, young people, and people of a variety of different ethnicities. Lauren told me they aren't just looking to have work that is diverse and accessible, they want it to be good, and having a staff made of "socially conscious artists" is a huge part of that. We both lamented being the youngest people at a play, and she pointed out that she's sometimes the only person of color when she's at the theater. To change the face of Boston theater, Company One understands that they need to create work for an audience that is a diverse range of ages, races, economic status, gender identities, and however else we are divided. Besides on stage, this manifests in their practice of using general admission seating, so no matter if you paid $38 or $6 at one of their pay-what-you-can performances, the audience is equal.
Unlike other companies that are directly affiliated with universities, much of Company One's staff is filled with teachers from local Boston public schools, so their reach is to those who may never normally step into a theater. Their goal is introducing BPS students to Company One's own professional work, which ties back to their tagline of "What's Next". Lauren got involved with Company One, while at Brookline High School, when her teacher introduced her to Company One's apprenticeship program. The program teaches students skills in theater production, general business, and actually pays them, which differs from the many unpaid internships I and other people my age feel like are coming ahead. Attracting new theater artists at a young age, and investing in their skills and future is an amazing way Company One is creating the next generation of theater people, and goes past just bringing students to see a play.
The spaces Company One lives in represent a new generation of theater in Boston. I met with Lauren in their offices on 551 Tremont Street, which is a part of the Boston Center for the Arts Artist Studios.
According to their website
:
"the Artist Studios at the Boston Center for the Arts are dedicated to providing affordable workspace and a supportive environment to artists in all disciplines, and at all stages of artistic development. Artists working in studios at the BCA include painters, printmakers, sculptors, filmmakers, craftspeople, writers, performing artists and other art-related organizations."
Company One is a BCA resident theater company with SpeakEasy Stage, and the LGBT-focused
Theater Offensive
. The BCA plaza includes six performance venues, including small black box spaces, rehearsal rooms, and a large 372 seat theater. My experiences at the BCA Plaza have always been pleasant and exciting. Walking to the block of Tremont it encompasses, just 12 minutes away from Emerson in the South End, you pass by seemingly endless streets of brownstowns, and plenty of hip restaurants. Inside the Calderwood Pavilion section, containing two of the BCA plaza's theaters and some rehearsal rooms, it is modern, clean, elegant, friendly, and with plenty of room for audiences to chat around performances they are seeing. Walking towards the Pavilion I see their marquee that reminds me of a retro movie theater, with white letters manually placed on a blue grid. Nothing too flashy, just an acknowledgement of the three theater companies that live there.
Midsize theater companies like Company One that produce work that is unlike anyone else's, new work, for the Boston community that speak to our current issues, and are without commercial motives, matters so much. And,
according to an article summarizing the new play climate in Boston
, "there is a lot of new work being developed in Greater Boston, by a lot of different companies. And a lot of people are going to see it. In two years, 287,403 patrons attended 1,699 performances of 207 new play events." 200,000 of those patrons represent the audiences of the Huntington Theater and the ART, but still there is an effort to provide local artists with a home and a presentation of their work. An example is Company One's BCA PlayLab, in which six playwrights work on a new play that is eventually produced. Lauren mentioned that this is about getting artists to stay in Boston, rather than leave for Chicago or New York. The theater organizations like Company One, are creating theater for Boston, to build on the city's artistic community, to engage and connect citizens; and the artists of Company One inspire me, they stick to a bold artistic mission, one I hope to be directly involved with some day.